New Flag, 'Old' TV Show, MSIE 8.0, and Library Audiobooks
The weather yesterday afternoon was pleasant enuf for me to get to something I have had on my mental To Do list for months, take down the bracket for the slender metal pole for my old U.S. flag and put up a new bracket for the larger-diameter wooden pole for my new U.S. flag. A metal pole may have seemed a good idea to someone, but the effect of wind on the flag was to bend the pole back and forth, which produced metal fatigue and, ultimately, a ragged break a bit above the bracket.
+
As usual, I didn't get out to do this until nearly sunset, and the sun was right where I had to look, so caused problems. The liting was also not right for me to take a picture that would include the birdfeeder I put on the old metal pole (I drove the broken end into the ground) and show flowers and my birdfeeder in front, and the flag in back. Today, I got out in time to do that.



U.S. flags were all over the place after 9/11, but have largely vanished in my neighborhood. I had withdrawn mine only because the pole broke. I shall be interested to see if my displaying a flag influences anyone else in the neighborhood to put out their own flag. I know a fair amount about flags, and regard the U.S. flag as one of the best designs to be found anywhere. It is instantly recognizable, whether flapping in a breeze or falling from an indoor pole. It is distinctive, 'pretty', and meaningful, with elements that people understand to have specific meanings (13 stripes for the thirteen original states, 50 stars for the 50 current states). There aren't a great many flags with such distinctions. The "Union Jack" is one, a brilliant design with similarly distinct meanings to its elements that educated people can recite (the crosses of St. George (patron saint of England), St. Andrew (patron of Scotland), and St. Patrick (patron of Ireland). The bulk of flags, however, are dull, with no obvious meaning to any of their elements.
'Everything Old Is New Again.' Tonite, a 'new', hour-long ABC dramedy (comedy-drama) series, Cupid, premiered, starring Union City's
Bobby Cannavale
. It didn't do very well in the ratings, being up against two long-established crime melodramas and a new Osbournes variety show on Fox after American Idol.. The original 1990s series didn't do well in the ratings either, and wasn't given long enuf to build an audience.
+
I first saw Cannavale in the wonderful 'small' NJ film The Station Agent, which I discussed here
February 20, 2006
. Not only was that indie set in NJ, but most of it was shot here too, and the stars (Peter Dinklage and Bobby Cannavale), and the screenwriter/director (Thomas McCarthy) are all from NJ. The foto in my blog that day no longer appears because AOL closed down everybody's FTP file-storage space. And yesterday, Yahoo shut down its "Briefcase" file-storage/file-sharing service. What is going on? Google has opened a Google Docs service, and Microsoft has an online Workspace feature that offers file-storage/file-sharing, so I don't really need Yahoo Briefcase. But why are major Internet services closing down features they offered for years?
+
In any case, Cupid is a resurrected and altered version of a 1990s show I never watched, starring Jeremy Piven. I shall in all likelihood never watch the revived version either, since it is a drama (as far as I'm concerned, all dramedies are dramas, and I rarely watch dramas) and since it concerns heterosexual romance, which I do not care to see. If Cannavale's Cupid fixes up two guys, I'll watch that episode.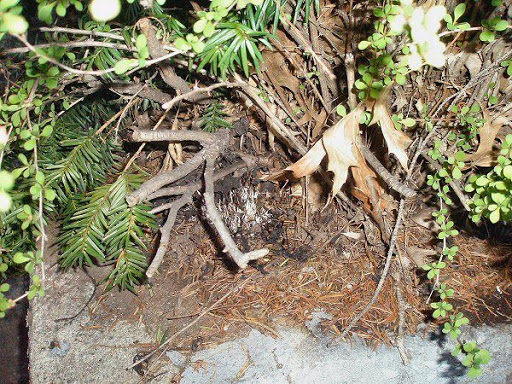 On March 26th, I showed here, as the 9th and 10th fotos, a cluster of "fruiting bodies" of small mushrooms under the enormous yew on part of my small front yard. (What we see as a "mushroom" is the "fruiting body" of a subterranean fungus.) What I didn't know until I went out to take pictures of an updated stage of my spring-flowering bulbs, is that these fruiting bodies are fleeting, and the ones I showed earlier had now died off, having released their spores and thus fulfilled their purpose in the life of the underlying (and underground) fungus.
MSIE 8.0. In my Internet meanderings today, I chanced to see that Microsoft Internet Explorer has a new version, 8.0. I checked my version. 7.0. So I decided to update, since one of the things MS claimed was superior security, something we must all be concerned about because Government does nothing to stop or punish computer crime. I followed the instructions and took the time not only to download the file and install this very large program but also to restart my computer — even tho it takes something like 23 minutes for my computer to become fully usable after a reboot. I went down two flites to have dinner while that happened. When I returned upstairs, I went to follow the instructions that had been onscreen before the reboot (start Explorer, go to Tools, and click on Update). Then I was presented with a quandary, because MSIE said that an add-on I have is incompatible with 8.0, and the instructions about what to do about that were written in computer-ese. They said to right-click on the "Information Bar" and choose to activate an ActiveX control. So I looked at the screenprint diagram, figured out what the Information Bar is, clicked on it — and there was no such option! I then tried to make sense of the "if that doesn't work" instruction, and found it completely incomprehensible.
+
Mind you, I've had computers since the Commodore 64 (in ye olden days; it operated by handcrank), and have had a series of computers since, up to my present Pentium IV. But the people who wrote the instructions for this new version of Explorer apparently created this version for each other, and they are deep within themselves and their own closed world of computer experts, so the instructions they provide are very hard for non-experts to understand. I did not have time nor patience to read page after page of explanations and instructions. I don't want to work for my computer. I want it to work for me.
+
The "if that doesn't work" steps took me to a Help screen displaying only a Search option, and without any indication of what the heck I was supposed to Search for. So I closed out of that and just tried to use the dratted thing. It worked. So they worried me for nothing.
+
Tho the claim is made that 8.0 works faster, I found the opposite. Once you're in it, it may or may not work fast. But trying to swap it out (as to lift some text from a website into your word processor) and go back into it can take a VERY long time, at least on my machine, and I have to switch between programs all the time. It has even frozen my machine. It appears to be a huge memory hog, using some memory for itself and apparently also pushing the Windows program that underlies it, svchost.exe, to take up huge amounts of memory too. If you haven't yet installed IE 8.0, you might want to check with friends who have installed it to see if they have had the kinds of extreme slowness, memory gluttony, and instability I have experienced, before going ahead.
+
There are a couple of good features. For one, there is a search box at the top of the screen, to the right of the URL address box, so I no longer have to click on Favorites to bring up Google. And drag-and-drop actually works in organizing Favorites, which it would not do for me in 7.0.


This is the second area where a cluster of mushrooms had been not long ago.

Free Audiobooks. If you're feeling adventurous as to software, aside from MSIE, you might be interested in a flyer I picked up at the Newark Public Library the other day,"Check Out and Download Digital Audiobooks for Free 24/7 at ListenNJ.com".
Hundreds of Digital Audiobooks are now available for Newark Public Library users from ListenNJ.com, a project of the InfoLink and Central Jersey Regional Library Cooperatives.

You will need:
• A valid Newark Public Library card.
• Internet access from your home computer.
(You may NOT use the Library's computers to download audiobooks.)

The first time you borrow materials..., instructions will be provided on how to download the free software needed.

Downloads are available for your personal PC, laptop, or PDA. MP3 audiobooks can be transferred to a wide range of devices, including the iPod®, iPhone™, and the iPod Touch. Some titles can even be burned to a CD.

You may check out up to five digital audiobooks at one time. The loan period is 10 days. After that, the title expires and the audiobook is automatically checked back in. At this time, you can delete the expired files from your computer.

Want to know more? Visit ListenNJ.com and click on the Help button for a complete list of FAQ[*] or take the Digital Media Guided Tour. If you wish to speak to someone at The Newark Public Library, please call (973) 733-7779.
____________________
* "[A] complete list of FAQ" is clumsy English at best. Altho FAQ means "Frequently Asked Questions", one should not have to go behind an abbreviation to determine grammar. "FAQ" is singular, the term for a standard webpage (or feature within a webpage with other things on it as well). The phrasing should have been "a complete FAQ", which would also have saved two words, some ink, and some grammatical confusion and embarrassment.
As if to compensate for my loss of the other mushrooms, this other area, of new mushrooms, to the right of the area first shown above, is perhaps twice the size of either of the other areas.
There is an extensive tutorial at the ListenNJ.com Guided Tour. I clicked on one part, about burning CD's (if permissions are right), and watched the steps and listened to the narrated instructions. Then I remembered that the door to the CD burner in my aging, piece-of-crap Dell won't open, and I haven't found the time and energy to take the tower's case off to find out what the problem is.
+
In any case, I'll have to look into this ListenNJ.com program when I have time, because that might be one way to get some info in a convenient form when I'm doing things like fixing fotos at a time when there's nothing on TV and I've already listened to TV shows' video or audio files downloaded from the Internet. This would seem yet another alternative to cable TV. Of course, with a book-length audio recording, if the narrator is irritating, I won't be able to listen. I certainly won't listen, for instance, to a British accent for hours. My great-(etc.)-grandfather fought to drive the British out of this country, and I have minimal patience with British accents. In fact, as a New Jerseyan, I have little patience for a lot of bad speech. Refined NJ speech is the best English in the world. Clear as a bell, unpretentious, with all R's pronounced, educated NJ speech is very easily understood across the entire English-speaking world and by new learners abroad of this most useful of all international languages.
+
I was irritated tonite in hearing some narrator on WNYE-TV (NY Bd of Ed station) say wok for "walk" and kwáu.ree for "quarry"; then Jonathan Turley, a legal expert for MSNBC, said íe.yer.nee for "irony". Things like that send me into a rage. But if you are not that easily irritated, you might find free audiobooks you can burn onto a CD for a CD-player in your car, backpack, pouch, or pocket, a good alternative to radio during your commute or an alternative to music CD's during chores around town. You can learn something passively, or listen to some classic novel, maybe even War and Peace or The Great Gatsby in commuting to work or school. I don't have a portable CD/DVD-player, but if I get my desktop's CD-burner working, I might get one. There's a lot of nonmusic audio available online, from language instruction to fiction to nonfiction, and when you're doing something that doesn't require intense concentration, you can absorb materials you select at times of your choosing, while doing other things, from laundry and yardwork at home, to riding the bus or train, to walking supermarket aisles. All free, from the Newark Public Library.

The guide on a bus tour I took of Yellowstone National Park said that evergreens can make (fotosynthesize) food whenever the temperature rises above about 45°F. So my rhododendrons ate today. I actually have a lot of evergreens, from an enormously tall spruce (I think) and very large low and spreading yew, to a boxwood shrub, to English ivy on the ground and up parts of three trees, to barberries, to azaleas and rhododendrons, to a "false cypress", to bamboo. The spruce, shown here, starts below my first floor and extends above the third. It stands green, year-round, outside my bedroom and hoffice windows.